Inspiration for the first Veronica Iorio collection came from the fairytales the designer loved best when she was growing up and which formed her character, tales in which daring heroines and princesses are often the same person, overcoming all adversity with a smile.
So the imagery of little girl fairytales, the legacy of a happy childhood, comes back to life in the choice of light fabrics in pastel colours, leaving plenty of room for touches of black and white.
The Spring-Summer 2021 collection ranges from the tough masculine looks of tuxedos and box jackets, to the soft super-feminine of the plissè flounced skirts and romantic embroidery of stars, hearts and moons in lurex on billowing blouses in tulle.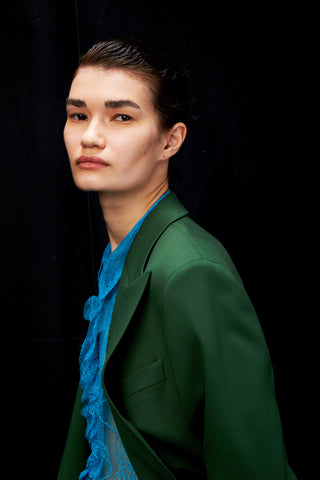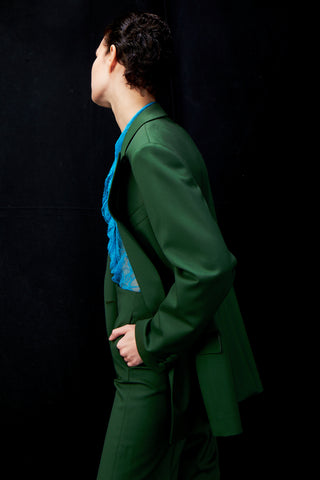 filosofia
"La moda per me è l'arte più potente che esista, è architettura e design tutta insieme, mostra al mondo chi siamo e chi vorremmo essere"
Afferma Veronica Iorio immaginando di rendere felice ogni tipologia di donna che indossa le sue creazioni con la scelta di un modello, di un colore o di una struttura.
Veronica fonda il suo brand omonimo nel 2020 e si impone nel panorama italiano come una stilista in bilico tra fantasia e pragmaticità, rivolgendosi ad una donna con molte sfaccettature, che non ha paura di osare, giocando con l'eleganza e lo charme, sofisticato e inarrivabile.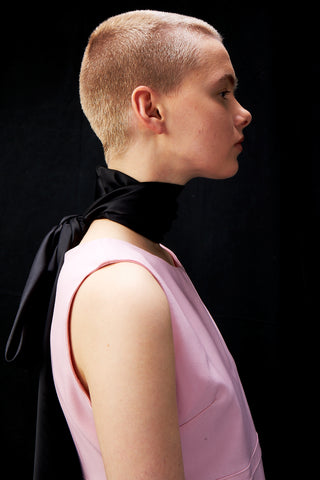 DESIGNER
Curiosa, intuitiva ed empatica, sono gli aggettivi che descrivono la personalità frizzante e magnetica di Veronica.
Attraverso la scrittura di un'idea o lo sviluppo in un disegno trova la sua espressione, la sua anima si da voce: colora, disegna, scrive o prende appunti, e quelli che erano talenti di bambina col tempo si sono affinati, trasformandosi da passione in occupazione, facendo prendere forma giorno dopo giorno al suo visionario progetto stilistico.